CANCELED - Tobacco Free Housing ...Where Do We Start?
---
Tuesday, September 19, 2017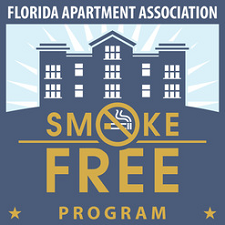 TOBACCO FREE HOUSING...Where Do We Start?
EVENT CANCELED DUE TO IRMA
(We are unable to re-schedule in 2017!  Please watch for a 2018 date!)
As many of our Members and Communities recover from IRMA, we have decided to cancel this Event.  
Refunds will be processed within 7-days
 Get answers to these questions…
What works – doesn't work?
How has it effected your bottom-line?
Resident response to the change.
How does ADA and Fair Housing fit in?
FREE Program help: Signage, Branding, Cessation and more…
 Hear from people who know…
Panel of communities that have gone from smoking to smoke-free!
Experts from Tobacco Free Florida
Florida Apartment Association – Get your "Smoke Free Certification"
 START Your Smoke Free Plan TODAY!
 FAA's Multi-Family Smoke-Free Certification program (click link)
Register NOW...seating is limited!
 Thank you to our Sponsors: 
Agenda
September 19
8:30 AM - 9:00 AM

Check-in

9:00 AM - 11:30 AM

Seminar
For More Information: