Membership Types and Benefits
Who can join BAAA? What are the benefits of being a member?
Membership Types
Associate/Supplier
Associate Members are companies that provide goods and services to our Community and Property Management/Owner Members within the rental housing industry. Annual investment: $472.50
Apartment Community
Apartment Community Members are the local apartment community's physical site. Community must be located within one of these 12 counties: Citrus, DeSoto, Hardee, Hernando, Highlands, Hillsborough, Manatee, Pasco, Polk, Pinellas Sarasota, Sumter. Annual investment is based on the number of units at each community that is joining.
Property Management
Our Property Management Membership is designed for Property Management Companies with a strong commitment to the rental housing industry and/or Communities located in multiples regions. The membership level enables the Property Management Company to be a member and become active with FAA and NAA. Must have 1 community member to qualify. Please contact our Membership Director to obtain this membership.
Membership Benefits
If you have any questions after reviewing or would like to schedule a prospect membership meeting,
please contact our Membership Director at Bonnie@baaahq.org or (813)882-0222 ext. 1.
Membership Information
All BAAA memberships follow the calendar year (January 1st -December 31st). All memberships expire on December 31st, regardless of when you join, and we prorate dues on the 2nd consecutive year of membership. *
Memberships are company-wide, not individual based, so all employees become a member of BAAA once the community/company joins. It's up to the company on how many employees they want involved with the association. Each employee can have their own account profile on our website so they can receive upcoming event emails, track education courses and receive member price on event registrations. All employees with an account will have access to the Business Directory on our website.
*Proration example: If you were to join​ any time past the 1st quarter of the year​, you would pay your full membership dues and your membership would expire December 31st. Come renewal in January, your invoice will be prorated for the amount of time you were a member in your first year of membership. Please call our office if you would like further explanation.
Networking Opportunities
BAAA has Signature Events which occur on an annual basis and generally fall within the same month every year. In addition, we also have networking events throughout the year that are hosted in various locations in the Tampa, Clearwater, St. Pete and Sarasota area. We host a Signature or networking event at least once a month. These events are a great opportunity to meet like-minded individuals within the industry, share ideas and create relationships. These events are open to all member employees and require you to register on our website on the event page prior to attending.
Committees
One of the best ways to get acquainted with BAAA members is through committee participation. Get to know the people who are already deeply involved with the association!
Committees are one of the most productive tools an association has to accomplish the organization's goals and objectives. Whether you are chairing a committee or are a committee member, you face the challenge of getting involved in the work the committee was formed to accomplish. The recommendations of a committee often have a direct impact on the decisions made by the officers and the board of directors of the association.
Plus, it's a great networking opportunity.
Career Center
Members have access to our Career Center at discounted member price. Our career center is powered by Web Scribble, one of the nation's leading career center providers, and because they partner with so many apartment associations in the region and across the country, the pool of applicants is second to none!


Education & Professional Developme

nt
BAAA offers opportunities for professional growth to our members through educational seminars and credential classes.
Community Credentials
NALP - National Apartment Leasing Professional
CAM - Certified Apartment Manager
CAMT - Certified Apartment Maintenance Technicians
CAPS - Certified Apartment Portfolio Supervisor

Associate/Supplier Credentials
• Supplier Success Course - The Supplier Success course offers an overview of the apartment industry and teaches methods that suppliers can use to maximize partnerships with apartment owners, apartment management companies, and apartment association members.
• CAS - Certified Apartment Supplier
Learn More about Credential Classes
Associate/Supplier Specific Member

ship Benefits
Advertising & Sponsorships
BAAA offers a variety of sponsorship and advertising opportunities throughout the year that will maximize your company's presence within our organization and the industry. Sponsorships are available to purchase in months leading up to the event and we notify our members of these opportunities through our weekly email and on event pages.
Advertising Opportunities EVENT SPONSORSHIPS Education Sponsorships
Business Directory Listing
All BAAA members are listed in our Membership Directory on our website with basic information. Our community members utilize this when in search of a particular service for their community. The directory is located on our website under the "Membership" tab. Members are searchable by name or by area of expertise (services provided).
Upgraded listings include your company's logo, featured information, additional contact links and featured placement at top of search page. For more information, contact Bonnie Gibson.
Membership Lists
A benefit of being a Supplier Member is the ability to request a list of our Community and Property Management members for your marketing needs twice a year. You can request a spreadsheet that includes the community name, full address, and unit count. Please note: this list excludes email.
Community Specific Membership Benefits
Access to the Click & Lease Software
Access to the Click & Lease software is limited to apartment association members only. With Click & Lease, everything you need is online and easily accessible. Speed up the preparation of legal documents, make your leasing process more efficient and streamline applications for prospective residents.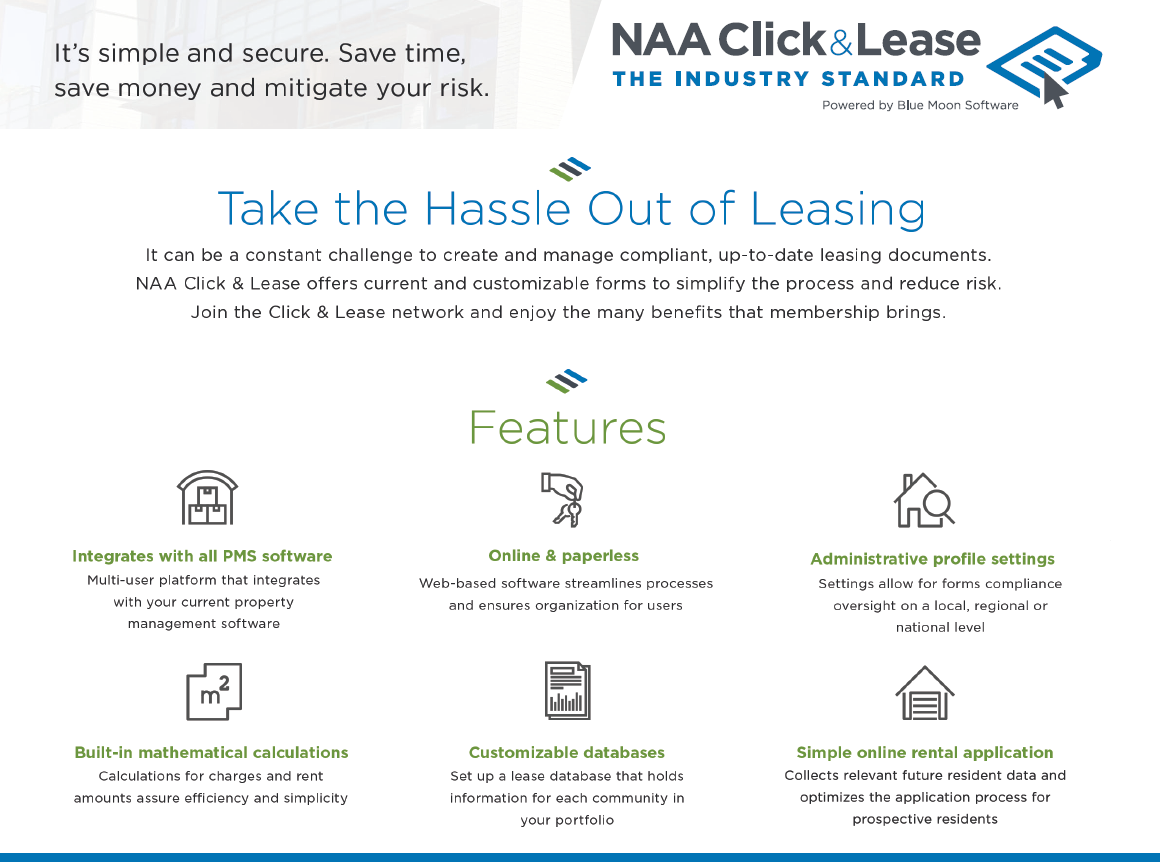 Learn More about Click & Lease Software
••••••••••••••••••••••••••••••••••••••••••••••••••••••••••••••••••
If you have any questions after reviewing or would like to schedule a prospect membership meeting,
please contact our Membership Director at Bonnie@baaahq.org or (813)882-0222 ext. 1.