Fall CAMT Course (Part 2 of 2)
---
Tuesday, November 14, 2017
at
8:00 AM (EST)
to Wednesday, November 15, 2017 at 5:00 PM (EST)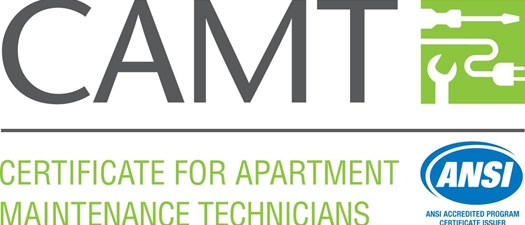 Fall CAMT 5-day Course (lunch provided)
Nov 14-15 (last 2-days of course)

"NEW Florida Law effective July 1, 2016" An on-site Credentialed CAMT for communities of 100-units or more can NOW perform REPAIRS ONLY (No replacements) of UP TO $1000 on Hot Water Heaters and HVAC Systems. Maintenance expenses are the single largest controllable element in any operating budget. This course is designed as an introduction for new maintenance professionals or as a refresher for the veteran employee, to give these professionals the knowledge and tools necessary to run an effective maintenance program.
Click HERE for 2018 Schedule!
Click for Scholarship application! - Deadline November 27, 2017
THANK YOU to our SPONSORS! 

Agenda
November 14
8:00 AM - 8:30 AM

Check-in

8:30 AM - 5:00 PM

Day 5 Class

November 15
8:00 AM - 8:30 AM

Check-in

8:30 AM - 5:00 PM

Day 6 Class
For More Information: