Spring CAMT Course (Part 1 of 3)
---
Tuesday, February 21, 2017
at
8:00 AM (EST)
to Wednesday, February 22, 2017 at 5:00 PM (EST)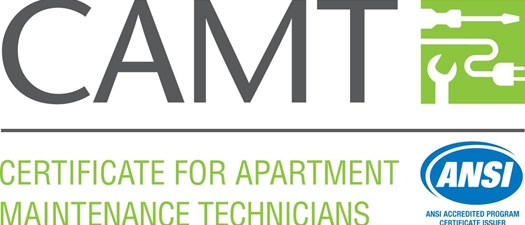 REGISTRATION CLOSED for this class!
Register NOW for Fall Class starting September 27
Spring CAMT 6-day Course (lunch provided)
February 21-22, March 14-15, March 29-30

"NEW Florida Law effective July 1, 2016" An on-site Credentialed CAMT for communities of 100-units or more can NOW perform/supervise REPAIRS ONLY (No replacements) of UP TO $1000 on Hot Water Heaters and HVAC Systems. Maintenance expenses are the single largest controllable element in any operating budget. This course is designed as an introduction for new maintenance professionals or as a refresher for the veteran employee, to give these professionals the knowledge and tools necessary to run an effective maintenance program.

Qualification Requirements: One year of apartment/rental housing maintenance experience before Final Exam. Successfully complete all required classroom courses and online content listed above. Meet requirements above and pass Final Exam within 12-months of NAAEI registration for CAMT Course. 
Registration & full payment due by February 10 , 2017 (Friday)
Members: $839 / Non-Members: $939
Agenda
February 21
8:00 AM

Check-in

8:30 AM - 5:00 PM

Day 1 Class

February 22
8:00 AM

Check-in

8:30 AM - 5:00 PM

Day 2 Class
For More Information: