Maintenance Appreciation Night
---
Thursday, January 20, 2022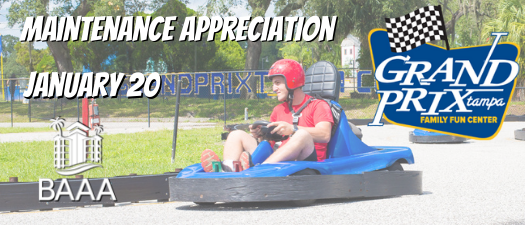 We all know it's true...
MAINTENANCE IS THE BACKBONE OF OUR INDUSTRY.
This January, bring the team together and celebrate your rockstars at
MAINTENANCE APPRECIATION NIGHT!
Thanks to our awesome sponsors, we've got all of the Grand Prix to ourselves! That means unlimited:
Big Race Car Track, Turbo Bungee, Miniature Golf, Batting Cages, Arcade Games!
Join us for an evening of fun and a little competition with dinner and an adult beverage. Let's get together and recognize our MAINTENANCE SUPERHEROES!



Admission
Maintenance Special Pricing: $39 each or $35 for 5+
Property Management Members: $55 payment or $65 invoicing
Supplier Partner Members: $65 payment or $75 invoicing

Non-Members: $175 due at time of registration
For More Information: