'Spikes for Tykes' Volleyball Tournament
---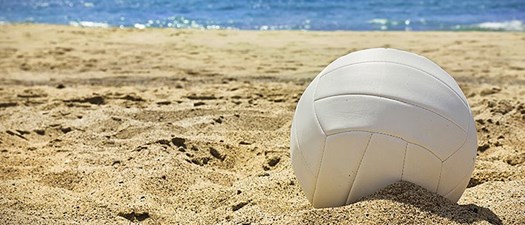 LEAVE YOUR CAR AT HOME!

Save time, headache and lives! USE BAAA'S DISCOUNT UBER CODE: em3ew94

 

Enter the above promo code under Promotions in the Payments tab of your Uber app to claim your ride promotion of $5.00 off. You must be picked up or dropped off at our event location during our event hours. (

9:00am -7:00pm

)


CARPOOLING IS HIGHLY RECOMMENDED! Once onsite parking ($10) is full, you may drop off your beach gear with the 365 Parking Lot Attendant outside and park remotely. Use the website FreeBeachRide.com or download the App "Free Beach Ride" for a free ride to and from your car to PCI. Just remember to tip your driver!

We invite you to bring your own:

Beach Chairs
Canopy/Tents
Umbrellas

but our facility does not allow outside food, beverages or coolers.
Parking Options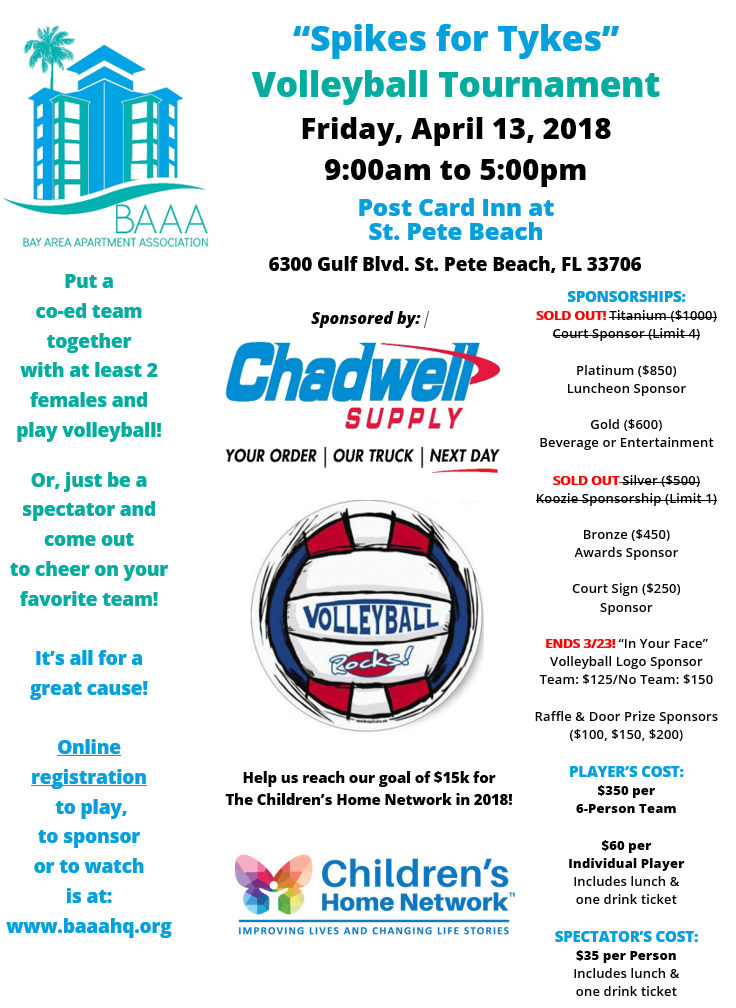 Stay the night at Post Card Inn -  $149 room rates!
Call (727) 367-2711 and mention BAAA
Your 2018 Teams
| | | |
| --- | --- | --- |
| 1 | Absolutely Amazing Refinishing | Absolutely Amazing Ball Handlers |
| 2 | Ameriscape Services, Inc. | ASI |
| 3 | Arbor Contract Carpet | Arbor Team |
| 4 | Bridge Real Estate Group | Bridge Slammers |
| 5 | Bridge Real Estate Group | Bridge Setters |
| 6 | Carroll Management Group | Carroll Management Group |
| 7 | Chadwell Supply | Team Chadwell |
| 8 | Driveway Maintenance | Driveway Team |
| 9 | Edwin Taylor Corporation | Edwin Taylor Corporation |
| 10 | Edwin Taylor Corporation | Hyde Park Renovations |
| 11 | Elite Flooring | Elite Flooring |
| 12 | Franklin Street Management | Franklin Street Management |
| 13 | Greystar | Greystar Thunder |
| 14 | Greystar | Greystar Lightning |
| 15 | Greystar | Greystar Bolts |
| 16 | Havana Square/Matrix | Matrix Marvels |
| 17 | HH Staffing | Bump Set Staff |
| 18 | Integrity Property Services | Clint's Bombers |
| 19 | JH Building & Assessments LLC | JH Net Results |
| 20 | JMG Realty | JMG Ace Jumpers |
| 21 | Knights of St John | HCFR - Knights |
| 22 | Lincoln Property Company | Lincoln Legends |
| 23 | Maintenance Supply HQ | Team MSH |
| 24 | Milestone Management | Practice Safe Sets |
| 25 | Milestone Management | Sets on the Beach |
| 26 | PEAK Contractors | Peak'd in High School |
| 27 | Quality Roofing | Quality Roofing Nailers |
| 28 | RAM Partners | RAM U |
| 29 | RAM Partners | RAM IT |
| 30 | Real Floors | Rug Life |
| 31 | Renovia | Renovia Refreshers |
| 32 | RentPath | RentPath Rockstars |
| 33 | Richman Property Services | Richman 2 |
| 34 | Richman Property Services | Richman 3 |
| 35 | Richman Property Services | Richman 4 |
| 36 | Richman Property Services | Richman 5 |
| 37 | Richman Property Services | Signature Spikers |
| 38 | Richman Property Services | Safe Sets |
| 39 | Robbins Property Associates | Rockin Robbins |
| 40 | SAR Diversified | SAR Diversified |
| 41 | Sentinel Real Estate | Bonterra |
| 42 | South Oxford Management | SOM Spikers |
| 43 | South Oxford Management | Kick SOM Butts |
| 44 | Southeast Floors | Southeast Floors |
| 45 | Switch Electric | Switch Shockers |
| 46 | The Childrens Home Network | The Childrens Home Network |
| 47 | Universal Contractors | Universal Contractors |
| 48 | Valet Living | Valet Living it UP |
| 49 | Watermark Restoration | All Sets Are Off |
| 50 | WellTech Pest Solutions | WellTech Killers |

Naming Rights
Titanium Sponsors



 
 
 
 
Platinum Lunch
Gold 

 Beverage

 
 

Silver Koozie

 

 

 
 
 
 
 
 
Bronze 
 Awards
 
 
 
 
 
 
 
Court 
 Signs
 

 
 

 

 
 
In Your 
 Face!
 
 


 
 
 
 
 
Raffle 
 Sponsors
 
 
 
For More Information:

P.O. Box 151958
Tampa, Florida 33684
(813) 882-0222