Property Management Executive Town Hall
---
Tuesday, June 8, 2021
10:00 AM - 11:00 AM (EDT)
Via Zoom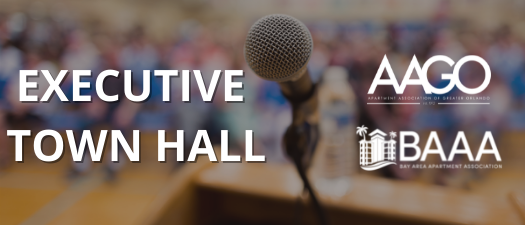 Florida is "open for business," the rental housing market is heating up, and our local economies are ramping up quickly. Yet, regulatory and operational challenges remain for housing providers.
Join us for the next "Property Management Executive Town Hall" for a discussion with senior leaders who will share their thoughts and take live questions from the audience.
---
We will begin the Town Hall with a federal update from
Greg Brown, SVP of Government Affairs, with The National Apartment Association.
Greg and his team have been the industry's voice in Congress, The White House, and with key administrative entities like the Department of Housing & Urban Development.
---
Our thought leaders will be discussing ongoing and emerging operational and regulatory issues such as...
What does "back to normal" look like post-pandemic for housing providers?
Strategies and insight into managing bad debt while remaining in compliance with local, state, or federal mandates.
The future of resident screening and risk management in the wake of the CDC moratorium.
Sourcing and retaining onsite office and maintenance staff.
Registration is FREE for AAGO and BAAA members in good standing.
Due to the nature of the discussion this program is limited to property management professionals in a multi-site, corporate, senior management or ownership role within their companies.
Executive Town Hall Thought Leaders