Maintenance Mania Competition & Dinner
National Maintenance Skills Competition with Dinner & Networking
---
Thursday, February 21, 2019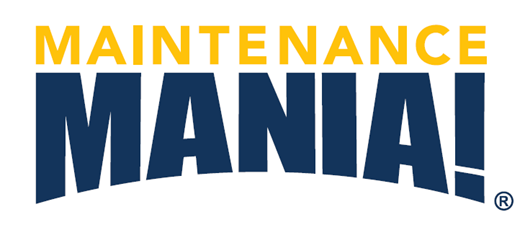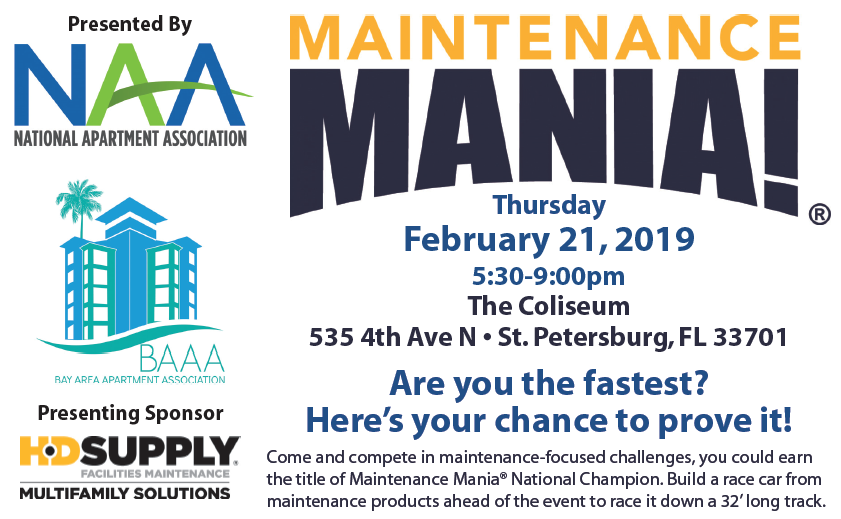 Please note: Must complete at least 5 of the 8 games to qualify for free offer. Must be a member of BAAA in good standing in order to compete. All competitors who travel from an affiliate association to compete will be unable to place in the Top 5 and advance to the NAA Competition.
YOUR 2019 COMPETITORS
If your service personnel are not on this list, they are not registered to compete in the tournament.
Wilfredo Acosta South Pointe

Veronica Alford Camden Royal Palms

Hernan Alvarez Northridge Apartments

Omar Amaya Camden Bay

Miguel Andres-Romay Valencia at Westchase

Alfredo Arocto Lantower Westshore

Alex Asilis Camden Westchase Park

Michael Atalla Ashford on the Lake

Angel Aviles Progress Residential

Elieza Baez Circa at Fishhawk Ranch

Gustavo Barrera Tapestry Lake Park

Blair Bass Palms at Magnolia Park

Brian Bieri Progress Residential

Jose Borrego West Park Village

Gary Brennan Azure St. Pete

Dwan Brookins Circa Fishhawk Ranch

Matthew Cabassa Lincoln Shores

Bernardo Cabrera Sienna Bay

Roberto Carmona Lantower Westshore

Juan Castillo Brandon Crossing

Dan Champagne Vinings @ Hunters Green

Pedro Cordero Lansbrook Village

Marshall Cosby Laurel Oaks

Emmett Crum Northridge Apartments

Pedro Cruz Rivertree Apartments

Quaton Dames Landmark at Grayson Park

Felix Davila Camden Preserve

Jorge De La Torre Sunstone Palms

Francisco De Los Santos Sunstone

Palms Aija Deaovic City Park

Adonis Delacruz Valencia at Westchase

Borges Diaz Radius Tampa Palms

Alejandro Diaz Tapestry Lake Park

Juan Diaz West Park Village

Armando Dieguez Lincoln Shores

Ryan Doheny West Port Colony

Mercer Ellis St James Crossing

Damaso Exposito Ashford on the Lake

Nomar Falu West Park Village

Kim Feliciano Brandon Crossing

Leo Galicia Echo Lake at Lakewood

Ranch Luis Garcia Pearce at Pavilion

Alfredo Garrido Radius Tampa Palms

Corey Gipson Progress Residential

Juan Groning Valencia at Westchase

Steven Guzman Progress Residential

Bob Hardenbrook Madison Gateway

Roy Jones Landmark at Grayson Park

Jim Kloss Madison Gateway

Kenneth Krieger Radius Winter Park

Hector Lebron The Retreat at Trinity

Mia Loreus Venterra Realty

Ray Lucas Pearce at Pavilion

Henry Lugo West Port Colony

Chris Major Lincoln Shores

Mario Mayo Laurel Oaks

Jason McClellan West Port Colony

Sean McCord Valencia at Westchase

Edward McIntosh Progress Residential

Gerard Mentz Azure St Pete

Daniel Montero Valencia at Westchase

Carlos Montoya Solana Vista

Eduardo Morrondo Brandon Crossing

David Muniz Camden Royal Palms

Erik Norling ResProp Management

Julio Ortiz Sunstone Palms

Jorge Otero Circa at Fishhawk Ranch

James Perano Palms at Magnolia Park

Jorge Perez St James Crossing

John Perez Camden Bay

Christopher Perez Retreat at Trinity

Brandon Postigo Camden Westchase Park

Darien Pottorf-Dixon Radius Winter Park

Thomas Pullen Arium Bayou Point

Angel Rivera Arbors at Carrollwood

Henry Rivera Progress Residential

Rafael Rivera Radius Tampa Palms

Emron Roberts Radius Winter Park

Miguel Robles Northridge Apartments

Francisco Rodriguez Madison at Roosevelt

Kenny Rodriguez Sunstone Palms

Jonathan Rojas Oak Ramble

Emmanuel Rojas Lansbrook Village

Joshua Rosado Lantower Westshore

Wilson Saint-Hilaire Progress Residential

Ariel Santiago Camden Visconti

Francisco Santos Progress Residential

Tony Scott Lincoln Shores

Sabahudin Selimovic City Park

Mick Sheppard Lantower Asturia

Jacob Siegel Arium Bayou Point

Isdolys Silva St James Crossing

Joe Stephenson Echo Lake at Lakewood Ranch

Luis Toro Arium Bayou Point

Amado Ulloa Sienna Bay Apartments

Dennis Vasquez Progress Residential

Jesus Velasquez Camden Royal Palms

Sheldon Walker Vinings @ Hunters Green

Byron Whyte Camden Royal Palms

Sterling Williams Azure St. Pete

Nick Williams Madison Gateway

Shane Wolski Madison at Roosevelt
Agenda
February 21
5:00 PM - 5:30 PM

Competitor Check-In

5:30 PM - 6:30 PM

Registration for Guests

6:15 PM - 8:30 PM

Competition

6:30 PM - 9:00 PM

Buffet Dinner

8:30 PM - 9:00 PM

Awards Presentation
Platinum Sponsors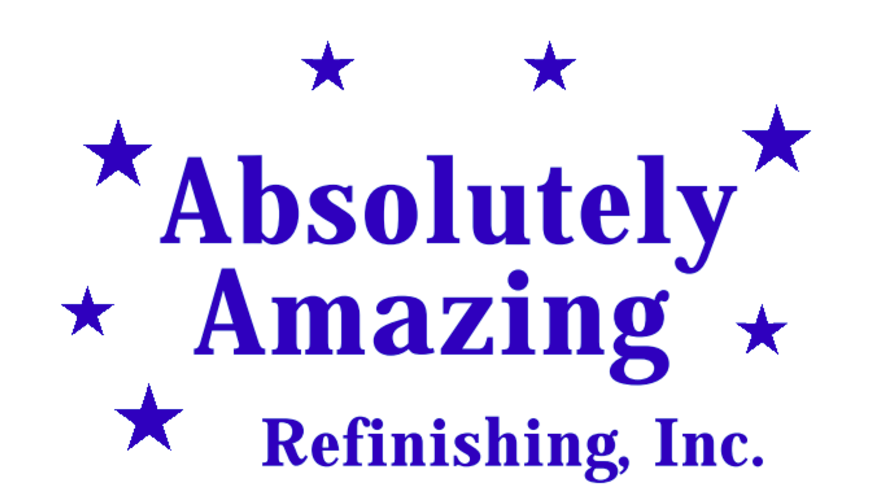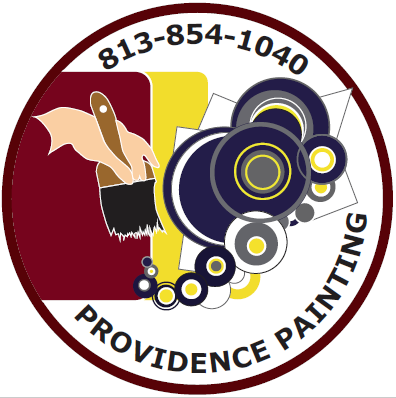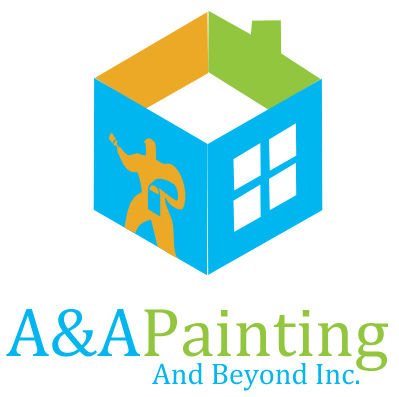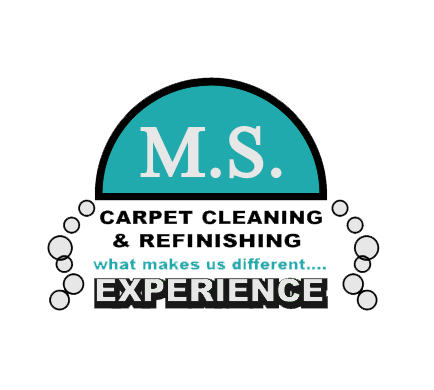 Silver Sponsors
| | |
| --- | --- |
| | |
Bronze Sponsors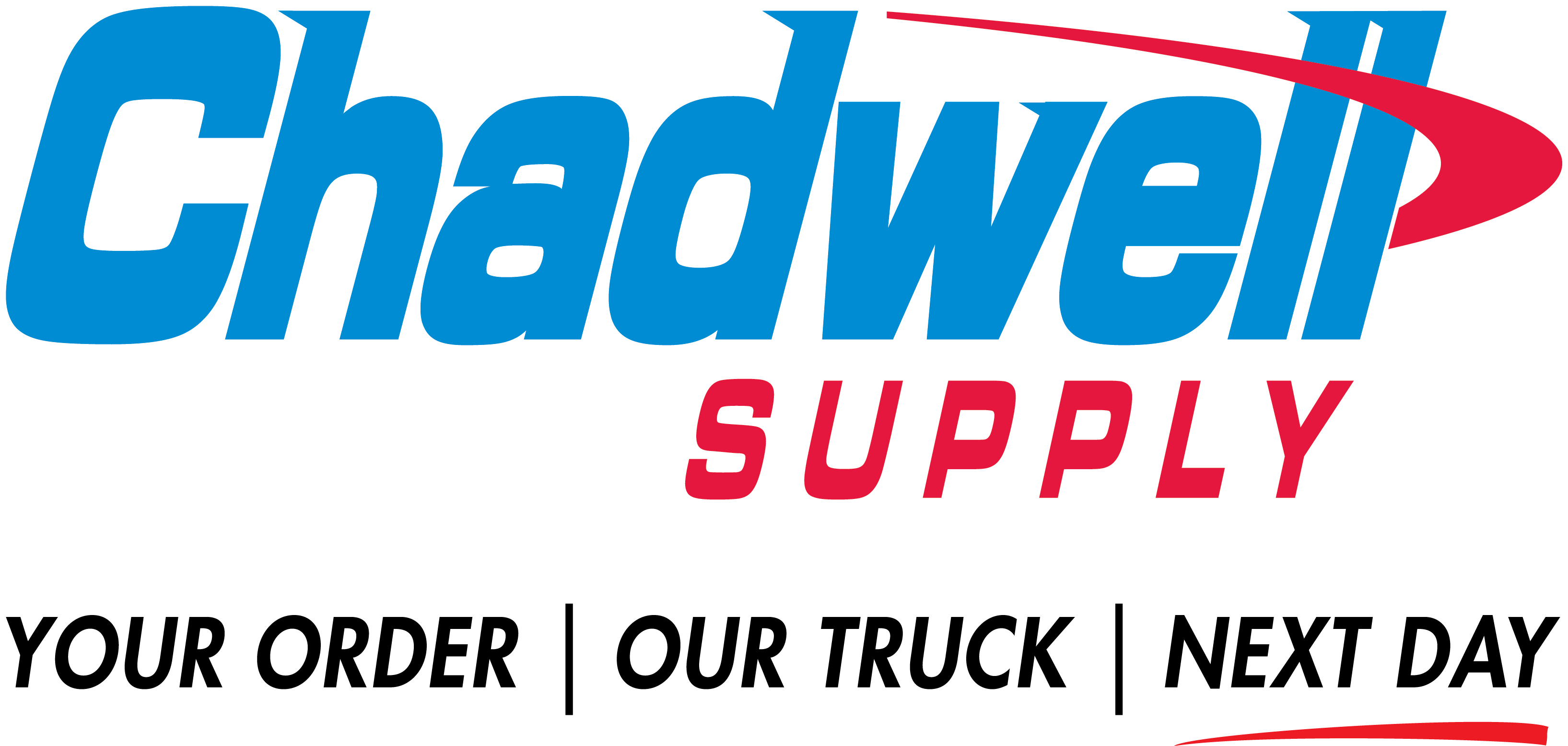 Parking Sponsor