Tuesday, September 22, 2020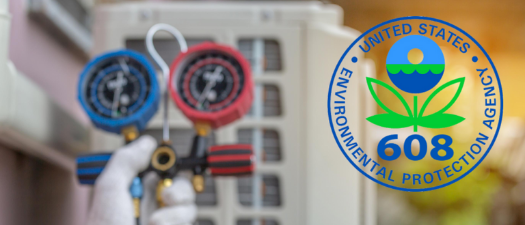 HVAC EPA 608 Universal Certification
EPA CERTIFICATION
8:30 am— 5:00 pm
With Vann Flippen, Chadwell Supply
6 CEC's
Check-in begins at 8:00 am
---
The EPA/Universal Certification program now includes ALL types of Freon and NEW Exam requirements.
The Federal Clean Air Act, Section 608, requires anyone who performs service, maintain, repair or dispose of appliances and equipment that contains regulated refrigerants (ALL), be certified in proper refrigerant handling techniques. 
The EPA also restricts the sale of regulated refrigerants to certified technicians only. Technicians who violate these provisions may be required to appear in Federal Court and are subject to fines and lose their certification.
There will be a CLOSED book exam after lunch. Study materials in Spanish by advance request.
This is an Environmental Protection Agency (EPA) approved course.  Chadwell University is certified through the ESCO Institute to offer the required training and administer the EPA 608 Certification Exam. 
To be successful on the EPA exam, spend some time reviewing this information and doing the practice exams ahead of time. 
https://www.chadwellsupply.com/epa/epa-practice/
Agenda
September 22
8:00 AM - 8:30 AM

Check-In/Coffee

8:30 AM - 5:00 PM

CLASS & Exam


(Lunch provided)
Thank you to BAAA's Education Sponsors


MEDIA POLICY:  By registering for this event, you are authorizing the Bay Area Apartment Association to reproduce, copyright, use, publish, and/or display, now and hereafter, your personal image, name, likeness, photograph(s), testimonial for any legitimate association purpose for print and electronic usage.
For More Information: