DEI Coffee Club
Small Groups - Big Conversations!
---
Via Zoom (let's see your smile!)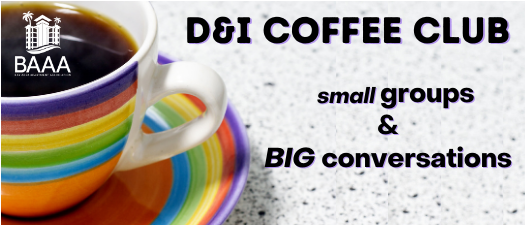 Join us for the COFFEE CLUB, an initiative of the BAAA Diversity & Inclusion Committee. The idea is to create a safe space for a productive discussion about important DEI issues facing society today.
In each session, the group will be given a starter topic to begin discussion and everyone will be asked to engage and share their thoughts freely while listening to and respecting the thoughts and opinions of others. This is a place where we hope that long-time thought processes will be challenged and societal norms can be investigated. Registration is FREE, and all we ask is that you bring an open mind.
Positioned during the "3 pm workday slump," we invite you to take a break and have a caffeine break with us!
RULES:
Be respectful of others
Listen without judgment
Let everyone be involved
Derogatory language not welcome
Open minds are imperative
Don't be a wallflower - use your voice

To sign up, please click the "Register Now" button above.
For More Information:

12477 Telecom Drive
Temple Terrace, Florida 33637
United States
(813) 882-0222