Certified Pool Operator (CPO)
---
Wednesday, September 23, 2020
at
8:00 AM (EDT)
to Thursday, September 24, 2020 at 5:30 PM (EDT)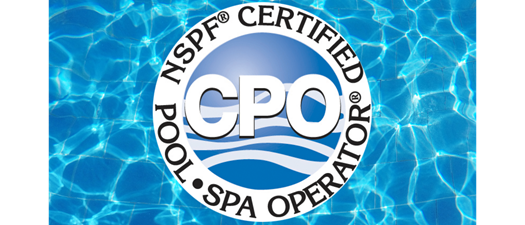 CERTIFIED POOL OPERATOR (CPO)
---
Instructor: Vann Flippen, Chadwell Supply |6 CEC's
5115 Joanne Kearney Blvd, Tampa FL | Parking Map
Wednesday, September 23 | 8:00 am - 5:30 pm
Thursday, September 24 | 7:30 am - 4:30 pm
---
This 2-day course covers filtration systems, chemistry and calculations, water sanitation, maintenance, State & Local regulations, liability & risk management, and more. The class concludes with an "open" book certification exam. Student materials are available in Spanish on request. All materials are provided to students on the first day of class.
---
Vann and Chadwell University are approved providers of the CPO Certification by the National Swimming Pool Foundation.
Agenda
September 23
8:00 AM - 8:30 AM

Day 1 - Check-In/Coffee

8:30 AM - 5:00 PM

Day 1 - Class


Lunch provided
September 24
7:30 AM - 8:00 AM

Day 2 - Check-In/Coffee

8:00 AM - 4:30 PM

Day 2 - Class & EXAM


Lunch provided
This course sponsored in part by:



MEDIA POLICY:
By registering for this event, you are authorizing the Bay Area Apartment Association to reproduce, copyright, use, publish, and/or display, now and hereafter, your personal image, name, likeness, photograph(s), testimonial for any legitimate association purpose for print and electronic usage.
For More Information: