CAMT - Certified Apartment Maintenance Technician
Earn your CAMT & advance your career in apartment maintenance!
---
Wednesday, March 16, 2022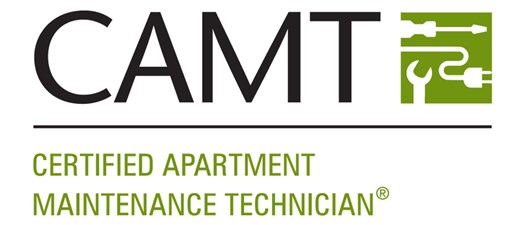 Certified Apartment Maintenance Technician (CAMT) Course
March 16, 17, 23, 24, (4-day course)
8:30 AM - 5:00 PM | 8:00 AM Registration
Location: Chadwell Supply | Lunch included
---
Are you a member of another NAA affiliate apartment association? Contact us for member pricing!
---
Certified Apartment Maintenance Technician (CAMT) Credential
Maintenance expenses are the single largest controllable element in any operating budget. This course is designed as an introduction for new maintenance professionals or as a refresher for the veteran employee, to give these professionals the knowledge and tools necessary to run an effective maintenance program.
Non-Technical Courses:
Inside the Apartment Business
People, Projects, and Profits
Technical Courses:
Electrical Maintenance and Repair
Plumbing Maintenance and Repair
Heating, Ventilation and Air Conditioning (HVAC) Maintenance and Repair
Appliance Maintenance and Repair
Interior and Exterior Maintenance and Repair
Details:
Time:

8:00 am to 5:00 pm for each module
Cost:

$825 BayPass, $925 Member Payment Discount, $1,025 Member Invoice Pricing, $1,325 Non-Member
CEC:

6
Audience:

Maintenance
Prerequisite: Must have one year of apartment maintenance experience before being eligible to receive the certificate.
Completion Requires:

Seven courses plus online content (which total 90 ½ hours) and meeting all examination requirements within 6 months of declaring candidacy.
Candidacy Period: 6 months
Extensions: 2 extensions; 6 months each; fee $75
Exam: 100 questions; 2.5 hours; $55 retake fee
Renewal: None. This is a lifetime credential.
Optional AIME Membership: 3 hours of approved NAAEI maintenance training + renewal fee for AIME

Please note: Because this is a certification course with exam, the full cost of the course is due before class. Unpaid students will not be admitted.
For More Information: