CALP - Certified Apartment Leasing Professional
Show your employer you're committed to an apartment industry career!
---
Tuesday, February 15, 2022
to Thursday, February 17, 2022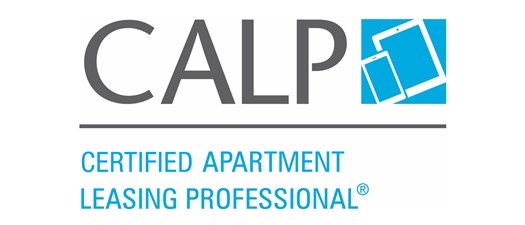 Certified Apartment Leasing Professional (CALP)
3-Day Course | 8:30 AM - 5:00 PM each day
Location: Chadwell Supply Tampa Training Room // Parking Map

February 15
Bringing in New Residents

Marketing and Maintaining Your Community


Why Your Competition Matters
February 16

Relevant Laws and How to Apply Them

The Sales Process and Building Relationships
February 17

Effectively Meeting the Needs of Current Residents

Market Analysis for Leasing Professionals


Certified Apartment Leasing Professional (CALP) Credential
The CALP Credential is perfect for leasing consultants, concierges, and career changers with hospitality, retail, or customer service experience. The CALP Certified Apartment Leasing Professional course will help you earn the CALP credential, many people's first industry credential, showing your employer that you're committed to a career in residential property management.
You'll learn about:
Using technology to generate traffic
Measuring and managing your community's reputation
Inspecting the leasing center, tour route, model units, and vacant apartments
Researching the competition and building relationships with competitors
Compiling a comprehensive community resource tool
Creating effective marketing plans
Relationship sales processes and evaluating your personal sales performance
Evaluating a prospect's commitment level and overcoming objections
Preparing prospects for the next steps in the rental process
Applying fair housing law and communicating rental criteria
Qualifying prospective residents according to the rental policy
Preparing and reviewing leases with new residents
Move-in processes
Responding to resident issues and maintenance requests
Building relationships with residents and creating a sense of community
Reporting incidents, maintaining documentation, and taking corrective action
Maximizing revenue and operational efficiency
Securing and processing lease renewals
Conducting a market survey 
Details:
Time:

 

8:30 am to 5:00 pm for each module
Cost: $349 BayPass, $449 Payment Member, $549 Member Invoicing, $849 Non-Member 
CEC:

 

6 hours per course
Audience:

 

Leasing Personnel
Prerequisites: Worked in the apartment industry for at least six months.
Completion Requires:

 

Seven required courses (which total 21 hours) and meeting all examination requirements within 6 months of declaring candidacy.
Candidacy Period: 6 months
Extensions: 2 extensions; 6 months each; fee $75
Exam: 120 questions; 2 hours; $50 retake fee
Renewal: Annual; fee $50; 5 CECs; $50 reinstatement fee
Your Instructor

Rose Nurse, CAM, CAPS, COS, TCS
Regional Manager
Royal American Management


SPONSOR THIS COURSE & SEE YOUR BUSINESS GROW!
For More Information: