BAAA-AAGO COVID-19 Town Hall
An online discussion for all BAAA members
---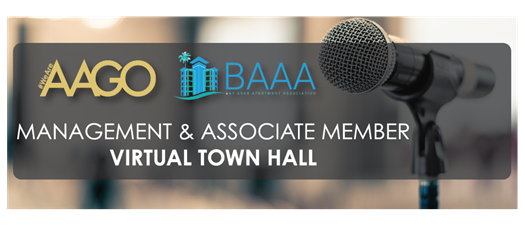 The Bay Area Apartment Association staff and leadership have been working in tandem with the Apartment Association of Greater Orlando on COVID-19 issues and education. We willl be holding an online town hall for our property management and associate/supplier members to discuss the coronavirus situation, what we are doing and share best practices.
Registration is free, but we do ask that you register using the 'REGISTER HERE" link above.
Registration for this webinar is limited due to space constraints. The webinar will be recorded and available for AAGO/BAAA members that were unable to attend. Please note, it is important to consult with your employer about specific prevention, containment, and operational protocols. BAAA is not a governing authority and no information provided should be misconstrued as legal or operational advice.
For More Information: