BAAA-AAGO Town Hall for Executives
An online discussion for all BAAA Executive Members
---
Thursday, February 4, 2021
10:00 AM - 11:00 AM (EST)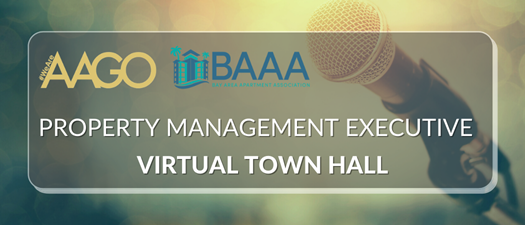 You're Not In This Alone!
The next Property Management Executive Virtual Town Hall is scheduled for February 4th @ 10:00 am.
This event is exclusively for AAGO & BAAA property management members in a multisite (i.e. District/Regional Manager), corporate support, senior management, executive/officer, or owner position. We will be hosting additional opportunities for property managers and supplier partners very soon!
Panelists

AAGO President Rachelle Hundley, Royal American Management & BAAA President Jimmy Chestnut, Incore Residential, will discuss how their companies have responded to the pandemic and what adjustments have been made for 2021. Participants will also receive an update on local and state rent relief programs and other emerging regulatory issues from FAA Govt Affairs Director Amanda Gill, AAGO Public Affairs Director, Trinity Kutschinski, and BAAA Government Affairs Director, Eric Garduño.
During registration, you will have the ability to submit potential topics or questions you would like to discuss!
Similar to previous calls, we will open the floor to you and your peers to discuss what you have learned, best practices, challenges, opportunities, and emerging issues of regionwide (and global) concern. 
Due to the nature of the conversation, this meeting will not be recorded. 
For More Information:

P.O. Box 151958
Tampa, Florida 33684
(813) 882-0222