BAAA-AAGO Town Hall for Executives
An online discussion for all BAAA Executive Members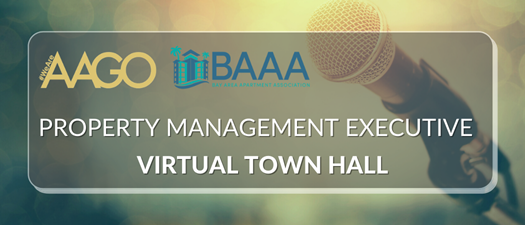 Wednesday, January 27, 2021
10:00 AM - 11:00 AM (EST)
We know that the ever-changing environment out there is challenging, and we want to be sure that we are providing valuable resources to you and your team. Our strategic partnership with AAGO is allowing us to provide better information, more educational opportunities, and additional resources to our members. Simply put, we are stronger together and we will continue to deploy new offerings constantly throughout this time.


We are co-hosting the next Property Management Executives Virtual Town Hall on Wednesday, January 27th at 10:00 am (EST). Come hear from AAGO President Rachelle Hundley, BAAA President Jimmy Chestnut, FAA Govt Affairs Director Amanda Gill, as well as our local Government Affairs teams on what is happening in the regulatory arena.
Similar to previous calls, we will open the floor to you and your peers to discuss what you have learned, best practices, challenges, opportunities, and emerging issues of regionwide (and global) concern. Participants must be property management professionals in a multisite role, corporate support, senior management, executive, or owner. With that in mind, please feel free to share this with your peers and internal management team.
Your association is here for you and your teams, and we want to know what information you need to help you move forward. If there is a resource or educational offering you are seeking and cannot locate – please do not hesitate to contact us. Hang in there and we will weather this storm together.
---
Registration for this webinar is limited due to space constraints. The webinar will be recorded and available for AAGO/BAAA members that were unable to attend. Please note, it is important to consult with your employer about specific prevention, containment, and operational protocols. BAAA is not a governing authority and no information provided should be misconstrued as legal or operational advice.
For More Information:

P.O. Box 151958
Tampa, Florida 33684
(813) 882-0222