Leadership Spotlight: Tina Arbogast
An initiative of the Diversity & Inclusion Committee, this series of interviews aims to highlight women leaders in the apartment industry during Women's History Month and Gender Equity Month in March.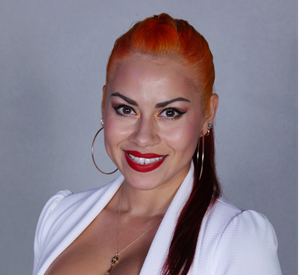 Tina Arbogast, co-owner of Greater Quality Pool Service, is an active volunteer on our Government Affairs Committee, co-chair of the Emerging Leaders Committee, and currently holds a supplier seat on the Board of Directors. Tina is bright and cheery and full of wisdom.
Q: Tell us how you got started in the apartment industry.
A: I started in multifamily when my husband and business partner, Will Arbogast, began our pool service company. My background is in hospitality, and I had almost a decade of front-line customer service experience, which helped me with the learning curve in starting our own business. We hit the ground running and got quickly involved with BAAA, and here we are today!
Q: As we know, the multifamily industry is female dominant until you reach some c-suite and ownership roles. How do you think we can get more women into these roles?
A: Continuing to support growth in the women who express interest. There's a finding  [Sheryl Sandberg, Lean In] that shows women are more hesitant to apply for a job they feel they are not 100% qualified for vs. men (who were much more likely to just submit their application, regardless if they felt completely qualified). I think encouraging women to "just go for it" (if there's an opening of interest) is the first step. You may not know all the answers in the beginning, but you will learn so much along the way. If you don't take the first step to apply, you won't ever know, and we won't see more women in those roles. You're at least on the radar and showing up, which is huge. Also, encourage your circles to take opportunities and act as cheerleaders.


Q: What do you feel are some ways in which we can make this profession more equitable?
A: Great question! I think it's allowing individuals the chance to express themselves while maintaining professionality. Removing the shame from self-expression & heritage is important, for instance, seeing African American women being able to wear hair naturally in corporate positions, which I hear is becoming more encouraged. Antiquated ideas on how individuals should look and act in the workplace should be left in the past; encourage women and minorities to speak their minds (in a professional manner). Continue to hold your thoughts with respect, and live your most authentic self in a professional setting. Some forms of expression (like my tattoos and hair color- who for some may feel it is part of who they are) shouldn't necessarily take away from their ability to be perceived as a high performer.
Q: What trait do you think it takes to be successful in property management? 
A: Communication. Being able to communicate and be honest about what you can and cannot do in a straightforward manner is so helpful in this industry. That also includes being able to ask for help, which I learned from another BAAA member, Stephanie Ingram. When you're unsure or need guidance, being able to communicate your needs is vital. On the flip side, being able to offer that same assistance to others in need. Be there for others when you can be. Recognizing that we [suppliers and property management] work together, we are partners in providing homes for the residents. Together, we're able to build each other up.
Q: If you were starting your career all over again, is there anything you would do differently? 
A: I have a healthy respect for suppliers who began their careers in property management. They have a different perspective of the day-to-day operations, that while I've learned from the outside looking in, is totally different while you're in it. In an alternate reality, I would have loved to start out in property management just to learn and to absorb the day-to-day. That would only make me better in my current position if I was afforded that opportunity early on.
Q: What words of wisdom do you have for women beginning their careers in the apartment industry?
A: Have fun! Get to know people and learn their stories. Network while you can, and have fun doing it. Be yourself while you are in those conversations. More than anything, listen when people are saying what their needs are. Inevitably, when you have those organic conversations, the business comes after. They remember the connection more than they remember your business card. So to condense it down-  just show up!