Celebrating Hispanic Heritage Month - Interview with Rose Nurse Alcala
Hispanic Heritage Month is celebrated from September 15 through October 15.  As part of BAAA's celebration of Hispanic Heritage Month, Government Affairs Director Eric Garduño is conducting interviews of BAAA members to learn what Hispanic Heritage Month means to them, and to learn about their experiences in our industry.  This week's interview is with Rose Nurse Alcala, Regional Manager, Royal American Management.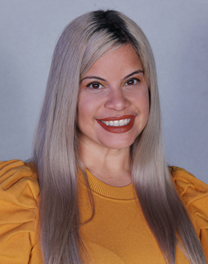 What does Hispanic Heritage Month mean to you?

Hispanic Heritage Month is a reminder that we should be proud of who we are, and that our culture or being bilingual are things we should not hide.  It is also a time to celebrate our accomplishments.  The Hispanic community has contributed so much to both the apartment industry and to all the United States. I am especially excited to see that Hispanics have made important gains in the leadership of our industry.  Today, I am starting to see Hispanics in executive roles of companies, and in other corporate positions, which wasn't the case just a few years ago.

What was it like for you when you started in the industry?

Early in my property management career, which was over 15 years ago, I suspect I was passed on for promotions because I didn't fit a specific mold.  I was a Latin female, which was uncommon at the time.  I didn't let this stop me.  I believe that if you are true to yourself, that if you maintain your goals, you can do anything you set your mind to.  Today, the mold has been broken and there are many Hispanics who are now decision makers in our industry. 

On that note, as a Regional Manager, you are now a decision maker – what is that like?

I became a Regional Manager for Royal American by moving up the ranks.  This experience helps me relate to my staff.  My staff know they can come to me and I will guide them through their challenges, because I have gone through many of the same challenges.  I am the kind of leader who won't ask a staff member to do anything I wouldn't do.  But being a leader can also be nerve wracking because you don't want to make a mistake.  You must have the confidence in yourself to make decisions, big and small.

You are also a BAAA Board Member and Chair of BAAA's Education Committee. What can you share about these experiences? 

I am so proud to be part of the Board of Directors for BAAA and feel fortunate to be with a company that supports my involvement.  The amount of knowledge I have gained and the people I have met through my work with BAAA has been personally and professionally very rewarding.  I also believe that without the association and the work of its volunteers to advocate for our industry, we wouldn't be the industry we are today.  I love to learn, and I believe education is another integral part of the association. Educating the members on developments in our industry, on new ways of our doing our jobs, gives them the tools they need to succeed and grow in their careers. Working with Krystal and the rest of the Education Committee allows me to stay on the cutting edge and adapt to all the changes we are seeing.

What subject area within our industry do you feel our members would most benefit from additional education and training?

My area of specialization is affordable housing, and so I have served as a trainer for LIHTC and other aspects of the affordable side of multifamily.  I think there is sometimes still a stigma attached to affordable housing, that it attracts the wrong crowd or doesn't look nice.  I want to educate everyone on what affordable properties are like these days.  Affordable communities are being built by the same developers who build luxury apartments, and there is no difference in the amenities across these properties.  We opened a new community in Lakeland earlier this year and it just won a beautification award. The schoolteachers and hospital workers who live in that community deserve the same quality of housing that everyone else has.

What do you believe are the most important skills in our industry?

Good communication and customer service.  This doesn't mean you will always get things right though.  One time I forgot to file a work order to repair a resident's air conditioning.  I was upfront and told the resident that I had forgotten.  I felt so bad that I bought them a couple of gift cards so they could go out and enjoy dinner while repairs were made. Experiences like that helped me develop a system of taking notes to stay on top of communications.  As for customer service, I follow Disney's approach - when you walk past that yellow line, you are on stage.  When you come into the office, your personal life stays at the front door, and you do your work with compassion and a smile.  You may be that one person at that right moment that will make all the difference to your resident.

Can you share a time when you made a difference for your residents?

About seven years ago I was working at a high-rise senior community and there was an outbreak of bed bugs.  Residents had to move their furniture & belongings around to prepare for the treatment to get rid of the bed bugs.  Because it was a senior community, many of the residents were not strong enough to take the actions needed, and some didn't have family in the area who could help.  My team and I decided we would help them.  We went into over 20 apartments to prepare them for treatment.  Many of our residents were so thankful, some with tears in their eyes, because they didn't have anyone else to turn to. The whole time I just kept thinking of my grandparents, and how I hope someone could give them the help they needed if I wasn't able to.

What do you do to relax in your spare time?

I love listening to Latin music in my car after work, especially salsa & bachata music like Marc Anthony & Aventura.  I am a big sports fan and am on the Board of Dade City Little League, where my sons play baseball.  Weekends, I am either at the baseball field or watching a Rays, Bucs, or Florida State Seminoles game.  But if I am not watching a game, I am probably cruising on our boat at the beach.  The sun and sand are my safe haven.  When we lived in Largo, you would find my family and I at Indian Rocks Beach most evenings.