Celebrating Hispanic Heritage Month - Interview with Angel Rivera
Date posted
September 15, 2021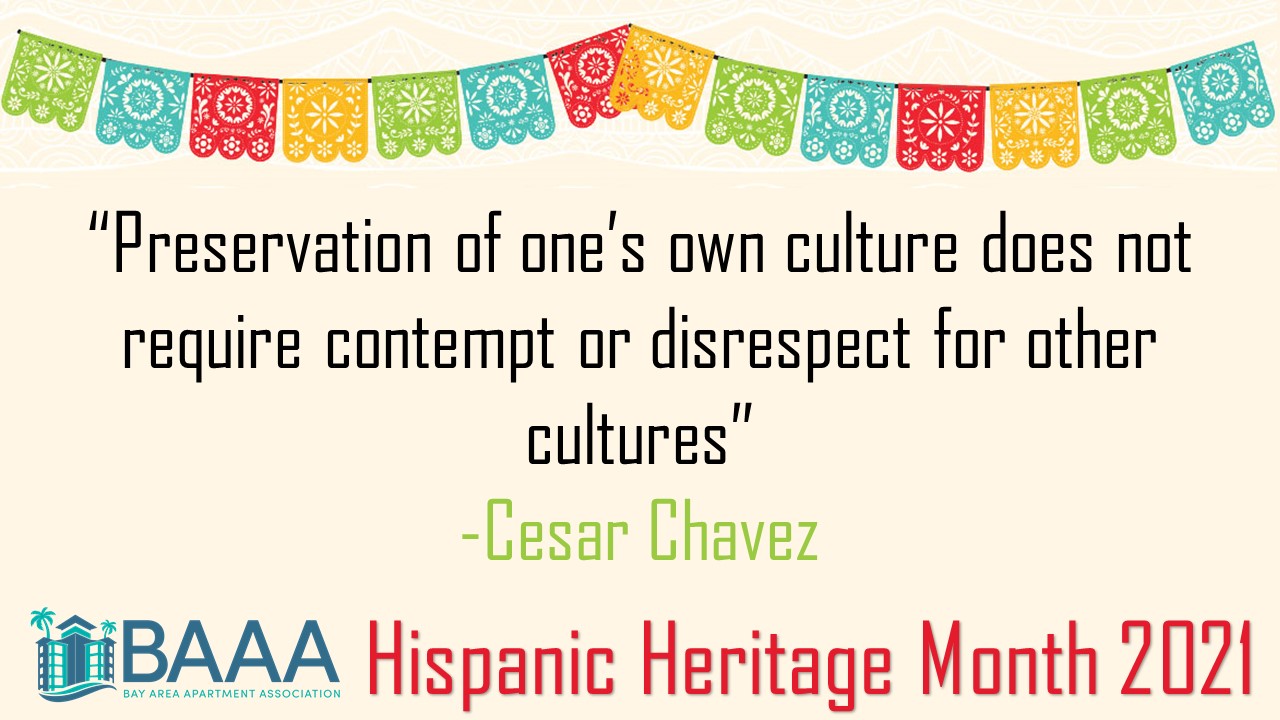 Hispanic Heritage Month begins September 15 and runs through October 15. To kick off BAAA's celebration of Hispanic Heritage Month, Government Affairs Director Eric Garduño was able to sit down with Angel Rivera, Property Manager with Providence Management to discuss his experiences in the Tampa Bay area.

What does Hispanic Heritage Month mean to you?

It's a recognition and celebration of diversity. I am originally form Puerto Rico, but I have been fortunate to travel all around the country. Throughout my travels, I have seen Latinos working, living, and being a part of this country. Hispanic Heritage Month gives us a chance to showcase both our differences and similarities to rest of the country.

Do you feel Latinos are well represented in the apartment industry?

I do think we are well represented. I have seen Latinos occupy every position within our industry, from Maintenance Techs to Executive Vice Presidents. Generally, I think Latinos are attracted to this industry because it gives us great opportunity to interact with others, to listen to the life stories of our residents, and a chance to guide them by explaining the "why" behind the rules we live by.

What were you doing before you started your career in the apartment industry?

I was in banking. I was always drawn to numbers and I enjoyed talking with customers, and banking gave me opportunities for both. But then I learned that an assistant manager position at an apartment community opened up. I decided to apply and was hired. I learned that the position involved both numbers and people as well. One of my first managers empowered me with the tools I needed and decision-making authority right away, and this really helped me get hooked on being a part of this industry.

What do you consider the most important skill to have in this industry?

Consistency. In this industry, every decision is very black and white and there really are no gray areas. Ultimately, you have to treat everyone the same. If you twist a little for one person, you have to twist for everyone. Some people don't understand this and get into a lot of trouble very quickly.

Can you share one of your best or worst resident interactions?

Actually, my best and worst was with the same resident. At the time, I was working at one of the most challenging properties in Tampa. There, I had one resident who was always very angry with everyone. If I said good morning to her, she would curse me out. She was a voucher holder and so when recertification came, I brought her into the office with every intention of asking her to find a new place to live. Then she shared with me the struggles in her life, how she had not graduated high school, and her aspirations to someday have a catering company. She owed community service hours, so I suggested she use them in the new GED program I brought to the community. She agreed and was the first graduate of that program. Eventually she did move out, but months later we ran into each other and she thanked me for everything I did to encourage her to turn her life around.

I found that with her, and a lot of other residents throughout my career, if you show them respect, are fair, and empower them to take charge of their unit, the property, and their life, then you help change behaviors so that they become more successful in all they do.

What books would you recommend to others in our industry?

A good book for other property managers is the One Minute Manager by Kenneth Blanchard and Spencer Johnson. It provides great tips on motivating and managing your team. Another book I have really learned from is Nice Bike by Mark Scharenbroich. That book is great at helping you learn how to start up conversations by finding something in common with others. In the author's case, because he is an avid motorcycle rider, he often starts up conversations with other riders with the comment "nice bike."

Do you have any restaurant recommendations to share with everyone?

I love Mexican food but I was never a big fan of tacos. Recently though, I have really gotten into tacos thanks to Taco Amigo in Zephyrhills. They have the most authentic Mexican tacos in all of the Tampa Bay region.

What is your biggest passion outside of work?

Music. I was a radio host for a Latin station here in Tampa in late 90's and early 00's. Then I became an event producer, bringing Cuban bands to our area. This was very controversial at the time, and I was the target of protests and death threats since many people incorrectly thought it was supporting communism. I moved onto producing music, including the Reggae band Third World's Grammy nominated Black, Gold, and Green album. I still have a home recording studio.

What does being a BAAA member mean to you?

This is the first year where I have really gotten involved in BAAA. For me, the association had really been about dinners and other social events, but I think these days it has gotten more engaged in issues at the local level. Decisions are being made in Tampa or St. Pete that can change how our industry does business all across the region. I am pleased with BAAA's involvement in helping to shape these decisions and have come to realize how important it is for our industry to use our voice.