Next Steps on MF Density Changes in the City of Tampa
Planning Commission to Review City Proposal on FAR

Led by multiple community associations, the Stop Overbuilding South of Gandy movement sparked various proposals that would curtail development (both in and out of South of Gandy) over the last several months. Ultimately, Tampa City Council referred at least one of the proposals offered during this period – changes to how the Floor Area Ratio (FAR) is applied – to the City's ongoing comprehensive plan amendment process.

To summarize, FAR is a means of calculating permissible density, whereby you multiply lot area by the FAR number, which gives you the buildable square footage (see this video for an explanation of FAR). Under current law, a developer may choose to use FAR or underlying limits to dwelling units, whichever is most advantageous for the project. The inital proposal would exclude use of FAR for single use residential projects in areas zoned for Community Mixed Use-35 (CMU-35), Community Commercial-35 (CC-35), and Urban Mixed Use-60 (UMU-60) Future Land Use categories (see below maps for where these areas are located).

At present, for CMU-35 and CC-35, the FAR is set at 1, but can be increased to 2 if conditions are met; for UMU-60, FAR is 2.5 and can be increased to 3.25 if conditions are met. This initial proposal then would force single-use multifamily projects in these zoning areas to rely solely on the underlying limits to dwelling units; for CMU-35 and CC-35, this is 30, or 35 if bonus provisions are met, and for UMU-60, it is 50, or 60 if bonus provisions are met. As noted in various presentations on this matter to City Council, use of the FAR has led to the development of single-use multifamily projects with unit counts greater – sometimes much greater – than what would be permitted by dwelling unit limits.

For now, it seems multifamily with mixed use will continue to have access to the FAR in the proposal. This initial proposal does not lay out any specific requirements in the amount of mixed use the project must have, however during City Council deliberations earlier this year there were suggestions that anywhere from 10-30% of the buildable square footage should be reserved for commercial uses.

At an online presentation on May 25, city planners announced that they will take community input on this initial proposal and how it could be modified. Various ideas were floated during the meeting, including limiting changes to specific areas of the city and ensuring the development of affordable housing isn't negatively impacted by any changes. Some of these ideas are commonly used in other jurisdictions, and there may be some desire by planners to see what other tradeoffs could be made for single-use multifamily to have access to the FAR (i.e., specific percentage of affordable units for access to FAR).
The schedule for further action on this issue is as follows:
July 12 – Staff provide Planning Commission a briefing on the plan
August 9 – Planning Commission Public Hearing
TBD – Transmittal of the plan to Tampa City Council
TBD – Tampa City Council Adoption Hearing
BAAA will monitor the issue and engage relevant policy makers. If you are interested in providing input and/or working with BAAA on this issue, please contact Government Affairs Director Eric Garduno at GAD@baaahq.org.
New Tampa Map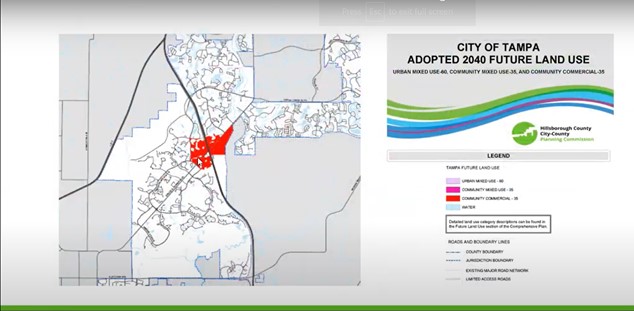 Central Tampa Map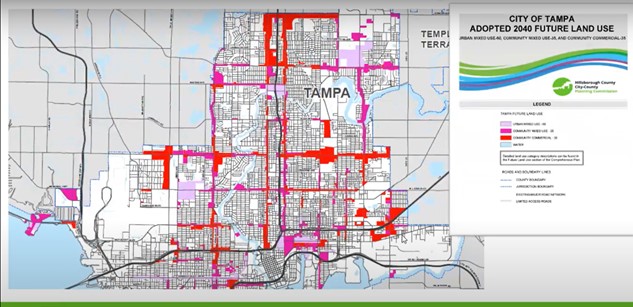 South Tampa Map