NAA Units Magazine - April 2017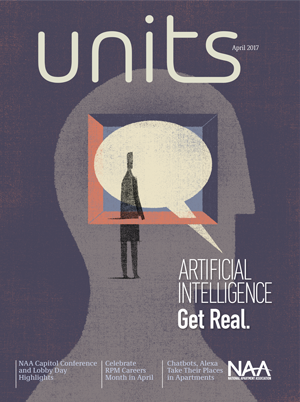 While my wife and I have a daughter (Madeline) and a cat (Ami) in our household, we do not have an Alexa. I assure you, however, that day will come, because Amazon's voice-activated personal assistant, affectionately known as "Alexa" (and others like her), is one of the most remarkable tech gadgets I've seen in years.
Now I'm not saying Alexa's superior to children or pets, but I challenge anyone to prove she's less responsive to requests. Anyone out there ever call on a cat?
What we are witnessing is that sales of Alexa and similar devices indicate that artificial intelligence (or a precursor form of it) is beginning to take control (in a good way) of many of life's daily functions. Why look out the window when I can ask Alexa for the weather report?
The same can be said about the apartment industry, which can see Alexa serving a valuable purpose in customer service, among other applications. We write about such efforts this month in units Magazine. And while our industry is only now, slowly beginning to learn the language of AI, the day is coming when it will be spoken fluently.
Alexa, take me to the link below. Read More.