Open Units Needed: Help End Veteran Homelessness with Operation Reveille 2018
Date posted
October 24, 2018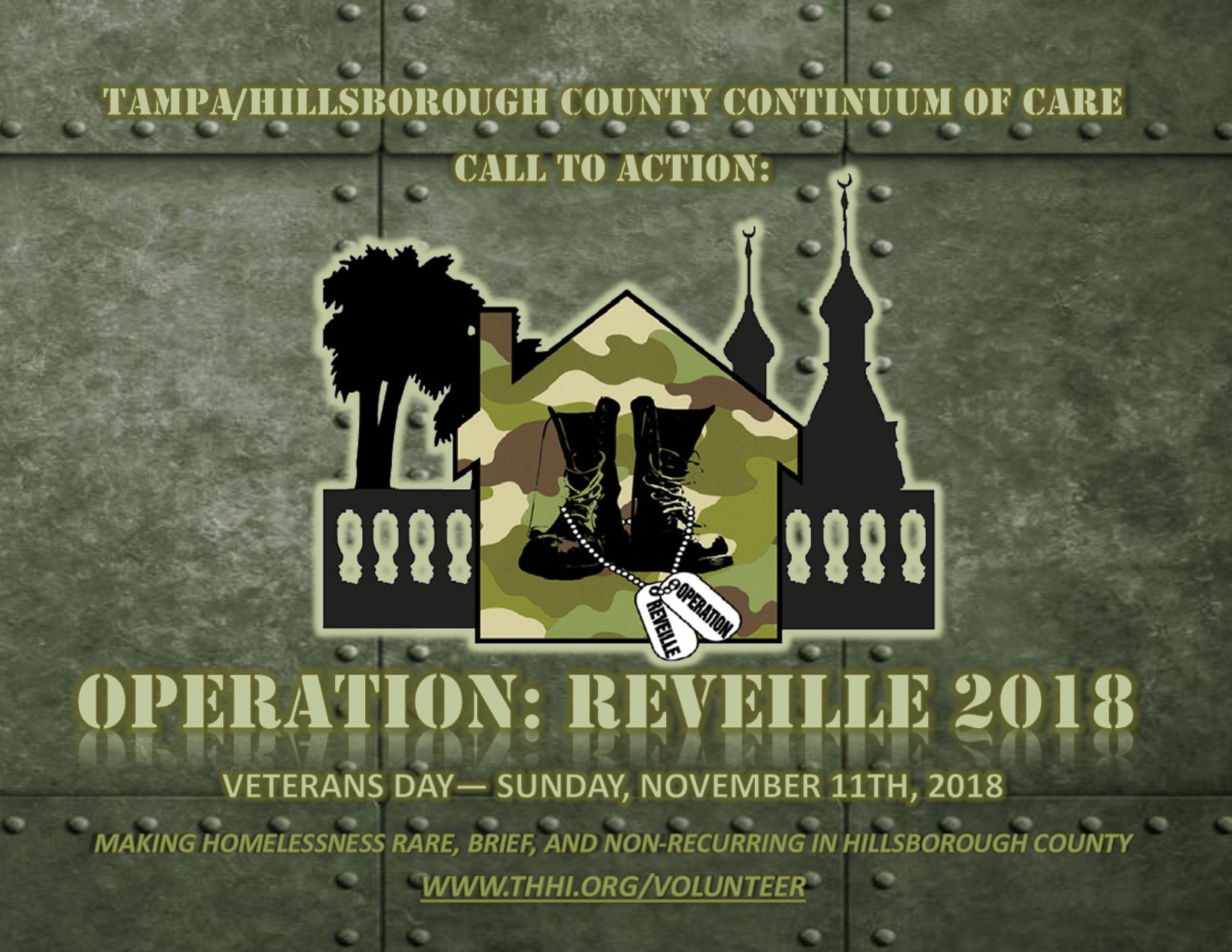 The Operation: REVEILLE program is a housing-first initiative with the goal of ending homelessness among military veterans. The program aims to rapidly rehouse veterans, and develop a system of care to ensure that the veteran never sleeps on the streets again.

BAAA has teamed up with the Tampa Hillsborough Homeless Initiative to help find available units in Hillsborough County.

We are asking our Community and Property Management Company members with properties in Hillsborough to contact Andrea below if you have available units and are willing to participate in this program.

For more information, please contact: Andrea Ramirez, Senior Housing Access Manager at Tampa Hillsborough Homeless Initiative (THHI) at 813-274-6986 or Ramirezao@thhi.org


The new C.A.S.H Program (Community-Wide Affordable Supportive Housing) is a financial incentive program for developers, landlords, and property owners. Download the CASH Brochure

Developer Incentive


THHI will provide financial assistance and establish a long-term contract with the developer/property owner to ensure that the unit will be used for P.S.H. (Permanent Supportive Housing) for 5 to 15 years.

Risk Mitigation

The Risk Mitigation fund is available to landlords if there are excessive damages to the unit, lost rent, or legal fees beyond the security deposit. Landlords can be reimbursed for damages.

This added protection for landlords who are willing to reduce screening criteria to rent to persons emerging from homelessness with limited income, a poor rental history, or a criminal history.

Set-Aside Units


Set-Aside Units acquired from Developers that receive financial incentives from local government to set aside a minimum of 10% of their units to persons emerging from homelessness. THHI is the gate-keeper of those units and will assign the housing units to service providers.

Rental Gap Incentive


Rental Gap Incentive is provided to landlords on behalf of clients that are emerging from homelessness. Clients are able to pay rent that is above Fair Market Rent (which makes the unit ineligible for mid-to-long term HUD funds); however start-up funds will be needed to stabilize the renter. This expands the housing options for renters and allows the renters to live in areas that may have been initially deemed unaffordable.