Certificate for Apartment Maintenance Technicians (CAMT) - Spring 2019 🛠️
REGISTRATION CLOSED - See Fall class in September
---
Tuesday, February 12, 2019
at
8:00 AM (EST)
to Thursday, February 14, 2019 at 4:30 PM (EST)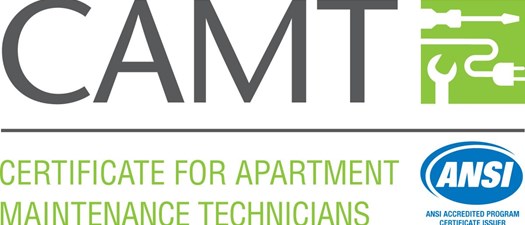 Certificate for Apartment Maintenance Technicians (CAMT) - Spring 2019 (4-day course)
REGISTRATION/PAYMENTS DEADLINE:
JAN 28, 2019
EARLY (till Feb 22): MEMBER: $889 / NON-MEMBER: $1089
LATE (Feb 23-Feb 28): MEMBER $989/Non-Member $1189
EMAIL COMPLETED REGISTRATION FORM TO: Debra@BAAAHQ.org
DATES: Feb 12, 13 & Feb 19, 20
TIME: 8:00-4:30 ALL Days
LOCATION: 5115 Joanne Kearney Blvd. (Chadwell)
CAMT - Qualification Requirements:
Minimum 12-months of apartment/rental housing maintenance experience
"NEW Florida Law effective July 1, 2016":
NEW FLORIDA STATUTE (see link for HB535) allows a community of 100-units or more with an on-site Credentialed CAMT to preform REPAIRS ONLY (No replacements) of UP TO $1000 on Hot Water Heaters and HVAC Systems. CLICK TO READ HB535
Maintenance expenses are the single largest controllable element in any operating budget. This course is designed as an introduction for new maintenance professionals or as a refresher for the veteran employee, to give these professionals the knowledge and tools necessary to run an effective maintenance program.
Earning your CAMT validates your knowledge, enhances your reputation and credibility, boosts your confidence and earns you respect.
The CAMT program is accredited by the American National Standards Institute (ANSI), a private non-profit organization that administers and coordinates the U.S. voluntary standardization and conformity assessment system.
To obtain the CAMT credential, candidates must complete the following:
Minimum of 12 months of apartment or rental housing maintenance experience. (This can be obtained while taking the course, you will receive a provisional certificate until this requirement is met.)
Successful completion of all CAMT coursework (totaling 80 hours)
Meet all examination standards within 12 months of declaring candidacy
You'll learn about:
Processing work orders correctly in a timely fashion, and to residents' satisfaction
Electrical services and repairs
HVAC services and repairs
Painting services
Construction services and repairs
Mechanical services and repairs
Appliance services and repairs
Lock and key services and repairs
Customer service and performing maintenance tasks according to company policy and procedures
Minimizing personal and property damage while safely performing maintenance activities
Fair housing regulation compliance
Environmental responsibility and regulatory compliance
Reporting and documentation of maintenance activities in compliance with company policy and regulation
Curb appeal, property inspection, and daily maintenance
Established procedures for maintaining recreational facilities and common areas
Implementation of a preventive maintenance schedule
Repair and replacement decisions
Professional behavior patterns, communication skills, and appearance
Clear and respectful communication with residents, team members, and contractors
Earning your CAMT credential gives you special membership in the
Apartment Institute for Maintenance Excellence (AIME)
As a member of AIME, you will be acknowledged as a leader in the field of Apartment Maintenance and can prove that you are tuned into the most up to date information on industry regulations and other changing standards. You can also take advantage of maintenance training designed specifically for CAMT credential holders.
The AIME membership requires annual renewal

based on the anniversary date of completion

. Submission of both annual AIME membership dues of $50 and documentation of 3-Continuing Education Credits should be submitted to complete the annual AIME membership renewal.
Agenda
February 12
8:00 AM - 8:30 AM

Check-In/Coffee


SAME TIME for ALL class dates!
8:30 AM - 4:30 PM

Day 1 - Lunch provided


ARRIVE EARLY...class starts promptly at 8:30am
February 13
8:00 AM - 8:30 AM

Check-In/Coffee


ALL class days- Feb 12, 13 & Feb 19, 20
8:00 AM - 4:30 PM

Class starts PROMPTLY at 8:30am


ALL class days- Feb 12, 13 & Feb 19, 20
THANK YOU TO OUR SPONSORS!
Click for details - See "registration" to purchase
| | |
| --- | --- |
| Feb 19 | Feb 20 |
| | |
CANCEL POLICY:
Email Debra@baaahq.org prior to "REGISTRATION DEADLINE"
NO REFUNDS after Early Registration deadline or for No-shows!
An alternate may be sent (Registration form required)
MEDIA POLICY:
By registering for this event, you are authorizing the Bay Area Appartment Association to reproduce, copyright, use, publish, and/or display, now and hereafter, your personal image, name, likeness, photograph(s), testimonial for any legitimate association purpose for print and electronic usage.
For More Information: