Gold Medallion Awards
Who is the "Best of the Best" in the Multi-family industry?

Location: Hilton Tampa Downtown
3rd Floor, Bayshore Ballroom
211 North Tampa Street
Tampa, FL 33602-5805

Schedule:
6:00 - 7:30 Reception with Specialty Carnivale Cocktail
6:00 - 6:30 Hosted Bar
7:30 - 10:00 Dinner & Awards

Tickets:
$100 before December 6th
$125 until December 20th
$150 until January 3rd

There are no physical tickets for this event. Name changes to registrations will be accepted until Monday, January 6th by email only to awards@baaahq.org.

Parking: Ft. Brooke Garage, 107 N Franklin St, Tampa, FL 33602

Please take a ticket upon entering the garage. You will be given a validation ticket at check-in. Use Sky Bridge located on 3rd floor of garage to access hotel. The Hilton Tampa Downtown also offers $20 daily and $32 overnight valet.

Requested Attire: Formal accenting traditional Mardi Gras colors (gold, purple and green).

Dietary Restrictions: Email awards@baaahq.org with your accommodation request by Monday, January 6th.

BAAA Gold Medallion Awards
The Gold Medallion Awards program recognizes the "Best of the Best" in the Multi-family industry. The event begins with professional networking and reception followed by the presentation of awards in multiple categories.
2018 Gold Medallion Awards

The 2018 "Diamonds & Pearls Gala" themed Gold Medallion Awards was held on January 19, 2019.
We had a wonderful time recognizing excellence in the Multi-Family Housing Industry. We could not have done this without our amazing sponsors, and of course, congratulations to the well-deserving winners!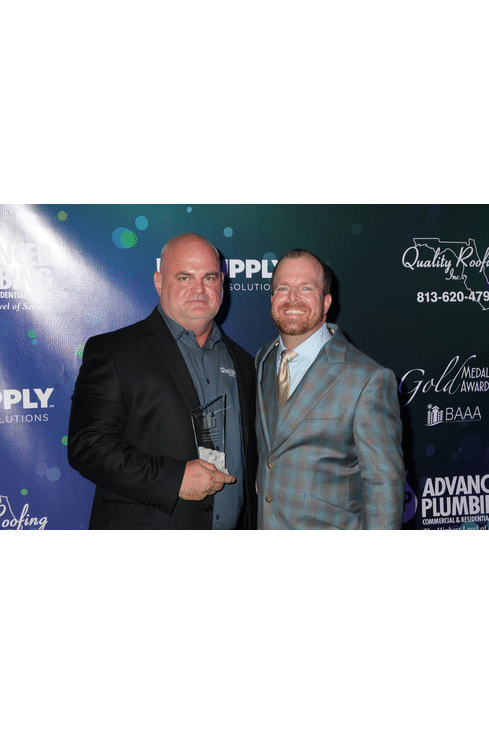 ---
Congratulations 2018 Winners!
Affordable Community
Under 250 Units: Oaks at Stone Fountain Apartments, Pinnacle
251-399 Units: Windtree Apartments, Self Managed
400+ Units: Windermere Apartments, Milestone Management
Conventional Community
Under 250 Units: The Retreat at Trinity, Greystar

251-399 Units: Aurora, The Richman Group

400+ Units: West Park Village Apartments, Carroll Management Group
New Construction/Lease Up Community
Under 250 Units: Lenox at Bloomingdale, Richman Signature Properties
251-399 Units: M South, Accend
Social Media Community
Under 250 Units: Bainbridge Ybor City Apartments, Bainbridge Companies

251-399 Units: Millennium Westshore, Lincoln Property Company
Associate Member
Dave DeMaio, Absolutely Amazing Refinishing, Inc.
Associate Member Company
Associate Office Manager
Richard Onderko, Advanced Plumbing Commercial & Residential Services, Inc.
Associate Field Technician
Will Arbogast, Greater Quality Pool Service LLC
Associate Rookie
Ciara Sweeting, PEAK Contractors, Inc.
Associate Sales Person
Rochelle Prado, Interstate Restoration
Regional Manager
Jordan Petras, Carroll Management Group
Corporate Employee
Rachel Miller Palmer, American Landmark
Groundskeeper
251-399 Units: Rafael Concepcion, Weller Management
400+ Units: Derric Adams, Robbins Property Associates
Housekeeper
Olga Alamo, JMG Realty, Inc.
Leasing Professional
Under 250 Units: Jamaries Cruz, JMG Realty, Inc.
251-399 Units: Edwin Rodriguez, Weller Management
400+ Units: Esther Garcia, Robbins Property Associates
Leasing Rookie
Under 250 Units: Amanda Terry, Royal American Management
251-399 Units: Diana Shoemaker, Greystar

400+ Units: Hector Mora, Radco Residential
Maintenance Supervisor
Under 250 Units: Ramon Abreu, JMG Realty, Inc.

251-399 Units: Luis Davilla, Timberland Partners

400+ Units: Frank Ingrassia, Carroll Management Group
Maintenance Technician
Under 250 Units: Sheldon Walker, Milestone Management

400+ Units: Lionel St. Hilaire, Carroll Management Group
Major Rehab Community
Under 250 Units: Preserve at Manatee Bay, Weller Management

251-399 Units: 30 West Apartments, Timberland Partners

400+ Units: IMT Boot Ranch, IMT Residential
Maintenance Rookie
251-399 Units: David Harding, Sentinel Real Estate Corporation

400+ Units: Juan Diaz, Carroll Management Group
Assistant Manager
Under 250 Units: Jillian Williams, Greystar

251-399 Units: Griselle Rosa, Weller Management

400+ Units: Veronica Nepon-Sixt, Matrix Residential
Community Manager
Under 250 Units: Rick Loveland, Carteret Management

251-399 Units: Sofia Welch, South Oxford Management LLC

400+ Units: Richard Zumbaugh, Mahaffey Company
Volunteer of the Year
Jordan Petras, Carroll Management
Associate Volunteer of the Year
Margaret Rushing, Advanced Plumbing Commercial & Residential Services
Social Media Decal Contest Winners:
First Choice Coffe Services
ABT Temporary Inc
Hibiscus Springs Rental Homes