Project: Community Collection Boxes at Properties and Member Companies

Get your residents and team members involved! The Children's Home Network helps at-risk children and families in the Bay Area. They will come empty your box when full - just give them a call!


DONATE TO THE CHILDREN'S HOME download collection flyer DOWNLOAD ONGOING NEEDS LIST


Project: Collect Supplies & Donations for Disaster Relief Kits
Hatching Hope supports residents that have been displaced from their apartment homes due to fire or other disasters with disaster relief boxes.

MOST Needed Items



Intex Air Mattress (Twin)
Pillows/Pillow Cases
Ziplock Bags 1 Gallon
Air Pump 110/120v
Trial Sized Toiletries

Soft Blankets/Throws
​Washcloths
Toilet Paper
Towels
​Sheets

DONATE TO HATCHING HOPE

DOWNLOAD FLYER
Project: Host Feeding Frenzy on October 18th in conjunction with the Young Professionals for Ronald McDonald House Charities.
"PB&J for Tampa Bay" is an effort to feed 25,000 homeless people this year in the Tampa Bay area.The YP's and the Community Service Committee have teamed up to host a 'Feeding Frenzy' to provide snack packs for the families living at the Ronald McDonald Houses across the Bay.
Volunteers!

Peanut butter

Jelly/Jam

Bread

Zip Sandwich Bags

Spreaders

Individual Packages of: Crackers, Chips, Nuts, Mints, Fruit Snacks



Thursday, October 18th
Time: 9:00 am
HD Supply
4406 Madison Industrial Lane #100
Tampa, FL 33619



DONATE TO PB&J

DOWNLOAD EVENT FLYER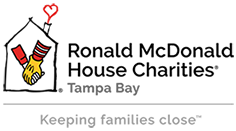 Project: Provide Snack Packs for Children & Family Under RMH Care
For 38 years, Ronald McDonald House Charities Tampa Bay has been helping children with challenging medical needs, and their families, stay close together during difficult times. Since 1980, our four Tampa Bay Ronald McDonald Houses have comforted and cared for more than 50,000 sick children and their families.

Project: Host Annual Bowl for Charity - School Supply Drive. Collected supplies and proceeds go to HEF.
The Hillsborough Education Foundation is invested in the success of over 200,000 students in Hillsborough County Public Schools by providing educational resources and financial assistance to help give every student, regardless of background, family structure or economic status, the opportunity to achieve personal success.


$10 provides 200 pencils.
$25 equates to one filled backpack.
$50 provides personal care items for 1 classroom.
$100 provides 2 classrooms with art supplies.
$225 provides 4 classrooms with STEM materials.
$500 provides 770 books for a school library.

DONATE TO HILLSBOROUGH EDUC. FOUNDATION

18 MOST NEEDED SUPPLIES

Project: Host Build Days and Gardening Days in 2019 with the Pinellas Chapter
Habitat for Humanity partners with people in your community, and all over the world, to help them build or improve a place they can call home. Habitat homeowners help build their own homes alongside volunteers and pay an affordable mortgage. With your support, Habitat homeowners achieve the strength, stability and independence they need to build a better life for themselves and for their families. Through our 2020 Strategic Plan, Habitat for Humanity will serve more people than ever before through decent and affordable housing.